Audio Expo North America 2018 (Axpona 2018)


A Aurender demonstrou seu Music Server com amplificação GamuT D-200i e caixas acústicas GamuT RS-3i, o articulista da Positive Feedback considerou o som do sistema maravilhoso.

Aurender and GamuT.

GamuT loudspeakers & amplifiers: Wonderful
Além da sala da Aurender a GamuT Audio tinha sua própria sala aonde demonstravam um sistema completo com Pré D-3i, amplificadores monobloco M-250i, caixas RS-7i e todos os cabos GamuT Worm Holes tocando Lp´s, a Enjoy the Music ouviu o sistema e seu veredito foi: "Esta foi uma das salas mais musicalmente arrebatadora e o sistema mais carregado de emoção do evento", veja abaixo o texto original da Enjoy the Music:
I got to spend some quality after-hours time in one of the Gamut rooms, 1639, with Audio Skies and GamuT USA's Michael Vamos. While listening to the MoFi Genesis LP, Trick of the Tail (which I had brought to the room as a gift for GamuT's Benno Baun Meldgaard), several tacks from my demo disc, and a test pressing of the upcoming Mobile Fidelity release of Dire Straits eponymous album ("Six Blade Knife" was KILLER!), we were joined by Music Hall's Leland Laird. Given that both these cats know good hooch when they taste it, I disappeared to my room, returning with a bottle of 18-year-old The Macallan for us to sip.
The analog source was the Pear Audio Blue Kid Thomas, with Cornet 2 arm ($7,990) and a Pear Audio Blue External power supply ($1,990), fitted with a My Sonic Lab Hyper Eminent cartridge ($5,495), while digital was server up by an Aurender A10 ($5,499), with the Bricasti Design M1 LE Gold DAC ($16,000). The rest of the chain was all Gamut, with the GamuT D3i Dual Mono linestage ($8,390) including optional GamuT D3i Phono Board ($1,800), a pair of GamuT M250i Monoblocks ($25,990/pr.), driving the remarkable GamuT RS7i ($39,990/pr.), using all Gamut Reference cables. Everything sat on the new Pneuance Audio Pneupad Isolation platforms, stands, and isolation devices (prices TBD).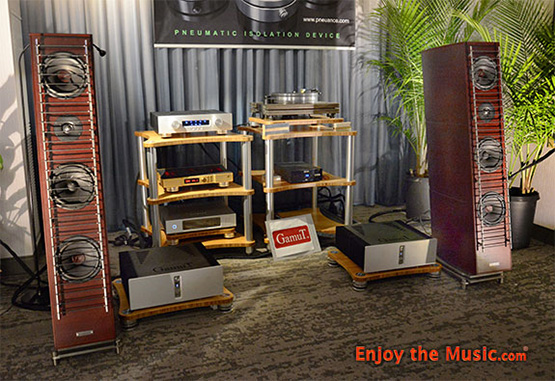 GamuT electronics and RS7i loudspeakers
While this room suffered the midbass bump that was affecting so many, the signature GamuT neutrality and organic-ness was unmistakable. I had the pleasure of living with the GamuT flagship Zodiac for nearly six months, and while the RS7i can't quite equal the scaling, raucous bass, or seamless coherence Zodiac brings to the party, their unfailing musicality, naturalness, and charm was totally realized in this room. It was one of the most musically engaging, emotionally charged systems at this event.