C.E.S. Las Vegas | Jan 9 - 12, 2018

Desde que o audio High End passou a ser apresentado junto a todos os outros segmentos na CES o evento perdeu importância entre os fabricantes, atualmente apenas umas poucas empresas apresentam seus produtos nesse evento. Neste ano entre os fabricantes que representamos aqui no Brasil só a Norte Americana Vandersteen Audio demonstrou seus produtos no evento. A Vandersteen Audio demonstrou no evento as caixas Quatro CT tocando com seus novos amplificadores monobloco M5-HPA, vejam a cobertura feita pelos articulistas da The Absolute Sound e o que eles falaram sobre o que ouviram lá.
Jonathan Valin: JV on Speakers $20k and Up
Though technically not in my category, the $14.6k, time-and-phase aligned, four-way, five-driver (one 1" tweeter, one 4.5" midrange, one 6.5" mid/woofer, and two 8" subwoofers) Vandersteen Quatro Wood CT floorstanders sounded their usual fabulous driven by Vandersteen's M5-HPA amplifier. Richard Vandersteen and Vandersteen Audio are to dynamic loudspeakers what Wendell Diller, Mark Winey, and Magnepan are to planar speakers—creators of many of the best buys in high-end audio.
Robert Harley: RH´s Best of Show
Vandersteen Quatro CT ($14,600 per pair) driven by Vandersteen's new M5-HPA amplifiers, all on HRX equipment racks.
Neil Gader: Loudspeakers $20k and Under
While the Vandersteen exhibit was focused on promoting its new monoblocks, they reminded the collective crowd that their mid-level loudspeaker, the $14,600 Quatro CT (hybrid design with powered woofer), is nothing to turn your nose up at. Dynamics were effortless on both the micro and macro spectrum, and the cabinet didn't editorialize. It plainly vanished, eerie. And finally, a pair of "returning champions" continue to spice up the drama in the brawling $10k segment. A near full-range flagship but at reasonable prices.
Julie Mullins: Julie Mullins on Electronics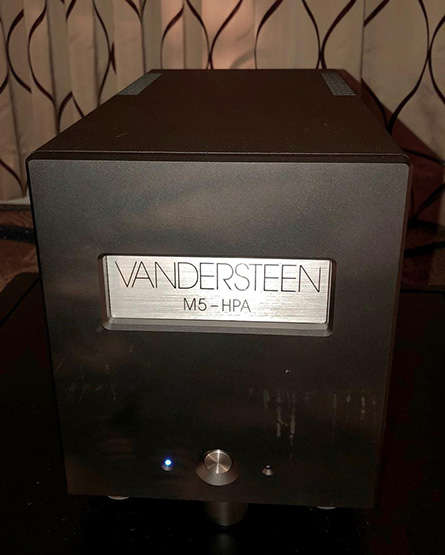 The new Vandersteen M5-HPA monoblock power amplifier is a direct descendant of the flagship M7-HPA model.
Richard Vandersteen introduced his new Vandersteen M5-HPA monoblock power amplifier ($15k/pr.; March shipping) that he designed, then built out in partnership with designer/engineer Dean Klinefelter. Delivering 300W into 4 ohms, the U.S.-made amp is a zero-feedback design with only five parts in the signal path per phase. HPA stands for high-pass amplifier, and the M5-HPA is a direct descendant of the flagship M7-HPA and is designed to work with a broader range of speakers. While the M7 version had only fixed high-pass filtering at 100Hz, the new M5-HPA offers five internal filter-setting options from 20Hz to 200Hz, not only to enhance bass but also to optimize the entire frequency spectrum. (Vandersteen explained that room EQ happens in the subwoofer, which doesn't tamper with the highs.) On a Bach organ concerto—a real low-octave test—the full, deep bass showed no slouch as it drove his Quatro Wood CT loudspeakers. Great stuff!