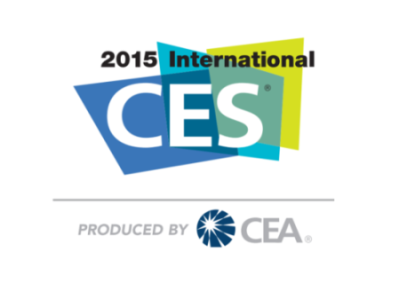 Durante a CES 2015 a What Hi Fi Inglesa visitou todas as salas para definir qual era a melhor caixa acústica do evento e depois de ouvir as mais caras e refinadas concedeu as GamuT RS-7 o título de "Estrela da CES 2015" como as melhores caixas do evento.

Leiam abaixo a matéria que a Audio Traveler fez sobre a apresentação da GamuT Audio na CES 2015.
CES 2015: GamuT is a sexy beast
I will admit that I'm a newcomer to GamuT, with my only real experience with the brand being enthusiasm from George Counnas of Zesto Audio for their amps (Newport 2012, RMAF 2012, and Las Vegas 2013) and an enthusiastic endorsement of their loudspeakers from TONEAudio's Jeff Dorgay.
Regarding the loudspeakers, it was something of a surprise to see Robert Greene of TAS pan their mid-level offering, the new $30k/pair RS-5. Having heard these loudspeakers in New York, and again at RMAF a couple of weeks later, I can honestly say I have no idea how Greene got to his conclusions, but I do wonder if he set them up right. Seems to be the only way I can reconcile his view and the universal acclaim that these speakers received at those two shows — something's really off in that review. Just sayin'.
Anyway, the RS-7 is what was on display here at CES. The RS-7 ($40k/pair) is a full 3-way, unlike the smaller RS-5, adding a second woofer at the top of the cabinet. Were it up to me, the RS-7 would be the one I'd want in listening room. Well, sure, the mammoth RS-9, at a whopping $110k/pair, would be awesome, but I'd need another room (in a different house) for that monster. So, back to reality (ha!) — the RS-7 would be pretty much an ideal game-ender loudspeaker. A 4Ω (3.2Ω minimum) loudspeaker at 89.5dB and capable of 22Hz – 60kHz, the entire line sports a very clean look. A raked-back fascia, with grooved, textured and a deep sweeping curve to the side panels, all conspire to make the speakers appear much smaller than they are — they're 150lbs+ each, for one thing, and 51″ tall and 20″ deep. Most definitely not tiny.
Shown here with the same equipment from RMAF, including the M250i mono power amps ($12,990 each), the D3i Dual Mono preamplifier ($8,290), and a GamuT CD3 player ($7,990). Cables were all GamuT also, including their new leather-clad "Wormhole Reference" speaker cables ($14,990/biwire set @ 5′), and the Wormhole Signature interconnects ($2,990) and power cords ($3,490). Pear Audio Analogue provided the complete analog source path, based on their gorgeous Kid Thomas turntable from the new Pear Blue line ($5,995) with a Cornet 2 tonearm ($2,195), an external PSU ($1,995 extra) and Reference 2-box phono pre ($4,495), an EAR MC4 SUT ($2,295) for the Ortofon Cadenza Bronze moving coil cartridge ($2,309).
This system, like the last several GamuT setups I've heard, was powerful, eloquent and tonally rich, with more than enough bass to irritate the neighbors several floors away. That said, what I kept thinking, kind of over and over, was: "Really, there aren't tubes in there? You're SURE?"
The sunset on the strip didn't hurt the overall presentation, either. This was magic, pure and simple.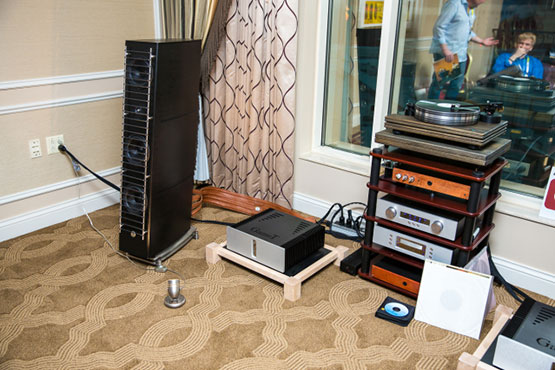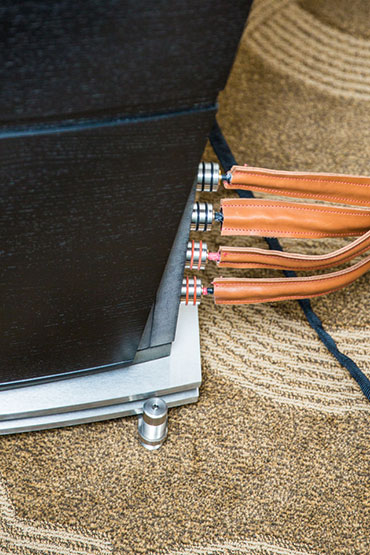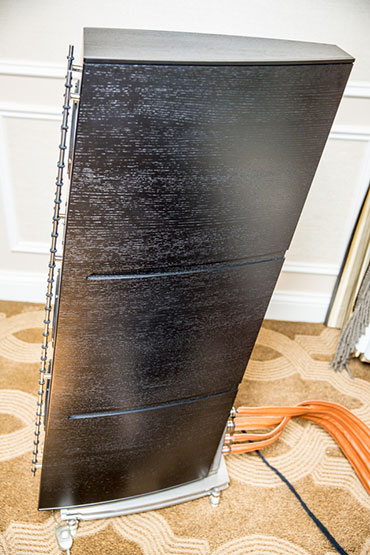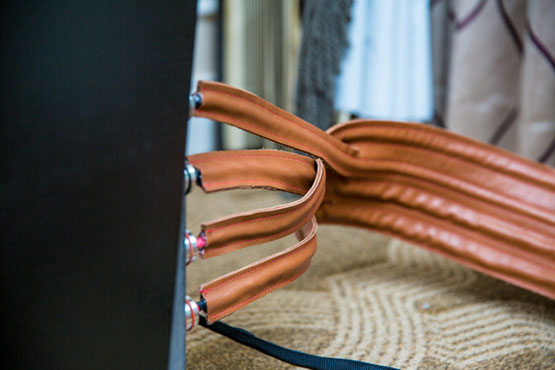 What Hi Fi (Inglaterra)
A What Hi Fi também se pronunciou e em sua matéria "Stars of CES 2015" classificou as caixas GamuT Audio RS-7 como uma das "10 estrelas" do evento e comentou: "Enquanto detalhes destas caixas com estonteante visual baseadas no pedigree da GamuT não saem de nossa cabeça nós gostariamos de colocar elas como um produto que merece os holofotes da CES, elas entregam uma precisa, dinâmica e "full-range" performance".
 
Magnepan:

CES 2015

Magnepan:
Wendell and Galina were on hand showing off the newest from Magnepan — the .7 at $1,400/pair. A massive upgrade for the Model 12, the new .7 is cut from the same acoustic (and technological) cloth as the rest of the Dot-Seven series panels, and as such, shares a startling sonic similarity with them. $1,400 is not inexpensive, but calling it the opposite is kind of abusing the word "expensive" — at least in this context.
My first thought, hearing it here with electronics from Conrad-Johnson, was "Holy Cow!" My second thought was, "Are you sure this is not a 1.7?" Seriously. Seriously good.
I'm hoping PTA can field a pair of these in the near future. They're killer, and for the price, an absolute bargain
CES: Highlights from Venetian Floor 30 - Loudspeakers
By Chris Martens
Magnepan
The venerable quasi-ribbon/planar magnetic speaker maker Magnepan was showing one of its newest and most affordable models at CES: namely, the .7 floorstanding loudspeaker ($1,400/pair). Essentially, the .7 is a dramatically updated version of, and thus the replacement for, one of the oldest models in the Magnepan range: the aging model 12.
Magnepan's Wendell Diller (left) and Conrad-Johnson's Lew Johnson (right) show a system based on the impressive yet affordable new Magnepan .7 loudspeaker and C-J electronics.
The .7 incorporates many of the same fundamental crossover design insights already incorporated in Magnepan's 1.7, 3.7, and even 20.7 loudspeakers, so that the entire range now shares consistent technology from top to bottom. Augmenting the speaker system's bass output was a single Magnepan DWM planar magnetic woofer panel tucked discretely to one side of the room. Though not as taut and tightly focused as some Magnepan demonstrations I have heard, the .7 demo showed the speaker to be cable of unusually wide, deep soundstages while conveying a convincing a sense of scale rarely achieved by speakers in this price bracket.

Roksan Audio:
A Stereophile americana fez uma boa matéria sobre a nova linha K-3 da Roksan, vejam abaixo:
Roksan's K3 Integrated Amp
In my review of the Roksan K2 BT integrated amplifier last November I made it especially clear that I enjoyed the way this amp played the earthbound"'roots" type music I love. It played my Bartok and Stockhausen equally well. In fact, the K2 BT is still the amp I use when I am not reviewing and I am just listening for my own simple enjoyment. I am a Roksan fan . . . But!! I also suggested that maybe I liked the way it played music more than how it looked in my "fashionable" Bed=Sty man cave.
Well, the newly styled Roksan K3 integrated amp ($2500 with aptX streaming), the K3 CD player ($2500, which I am dying to review), and the soon-to-be-released K3 DAC ($2500) are so art-deco cool and artfully streamlined in their appearance that I was both gob-smacked and envious of the person who drew the lines that created these elegant faceplates. This new Roksan design looks like it will fit quite nicely into some sophisticated Upper East-Side art collector's apartment. Bravo Roksan!