Durante o Show de Newport Beach 2015 os idealizadores do evento percorreram sala por sala e deram o prêmio de melhor som (Gold Show Award T.H.E. Show – Best Sound) para a GamuT e mais 3 empresas com direito a certificado assinado pelo responsável do evento, veja abaixo:

Durante o High End Show de Newport Beach na California Robert Harley da The Absolute Sound classificou as caixas GamuT Audio RS-3 como "Five Most Significants Products" do Show, a escolha foi feita entre as centenas de produtos participantes do evento, sendo que alguns eram até muito mais caros que as RS-3. Veja abaixo:
GamuT's RS3 stand-mounted two way sounded as good as it looked
GamuT's U.S. distributor, Audio Skies, premiered the new GamuT RS3 stand-mounted two-way. Finished in beautiful cabinetry with integral stands, the RS3 was one of the show's musical highlights, with a spacious yet focused presentation, natural timbres, and engaging musicality.
Chris Martens da Hi Fi + visitando o Show de Newport Beach classificou entre os "Fifteen sweet –sounding systems at Newport Beach" o Sistema da GamuT Audio e os dois sistemas montados pela Magnepan com as novas MG 0.7 provando assim que Magnepan toca bem com qualquer eletrônica, veja abaixo:

GamuT – Pear Audio Blue

One of the most deeply moving systems I heard at Newport, and one whose magical sound stuck in mind throughout the show and beyond, was a system comprised of GamuT's new-generation RS3 stand-mount monitors, GamuT electronics (the D200i power amp and D3i preamp), analogue components from Pear Audio Blue (the Kid Thomas turntable, Cornet 2 tonearm, power supply, and Reference 2-box phono stage), an Ortofon Cadenza Bronze phono cartridge, and GamuT cables. What gripped me about the system was its ability to sidestep hi-fi conventions and to defy traditional tick-box assessment of sonic parameters, instead ushering listeners straight into the presence of the music itself.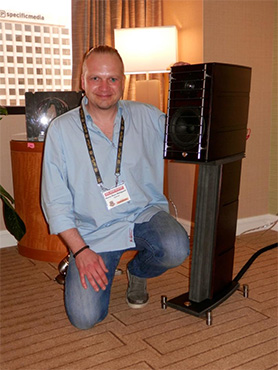 GamuT's Benno Meldgaard show his firm's new RS3 monitors
Candidly, I have heard GamuT's earlier generation RS-series speakers and have found them technically impressive, with a notably clean, precise, and almost pluperfect purity of presentation, yet when it came to the question of musical soulfulness or expressiveness I found the earlier models less than fully engaging. All of that, however, is changed thanks to the input of designer Benno Baun Meldgaard. Meldgaard worked hard to preserve the many things that were already right about GamuT speakers while assiduously tracking down those elusive factors that spell the musical difference between good hi-fi and the magic of great music. My take: Mr Meldgaard has succeeded in brilliant fashion.
Magnepan – Bryston – Oppo; Magnepan - Moon by Simaudio - JL Audio
Wendell Diller and the Magnepan team conspired, with a good bit of help from the team at Shelley's Stereo, to set up a friendly 'intramural competition' between two differently configured Magnepan systems set up in two demonstration rooms, both of which featured the firm's .7 floorstanding quasi-ribbon-type loudspeakers.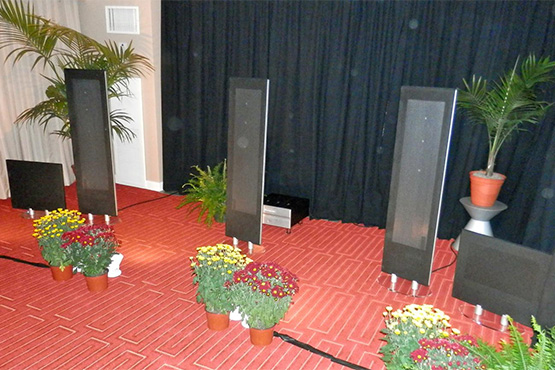 Magnepan's 3-channel demo system boased on the firm's .7 loudspeaker (note: The DWM woofer panels seen in the photo were on static display only as the .7's made entirely adequate bass in this room).
The Magnepan room featured a three-channel (or as Magnepan sometimes puts it, a 'Tri-Centre') system comprising three .7 loudspeakers driven by Bryston power amplifiers, a Bryston surround-sound A/V controller, and fed by an Oppo universal Blu-ray/player. The Shelley's room featured a stereo .7 system driven by Moon by Simaudio components and supported by two next generation JL Audio subwoofers.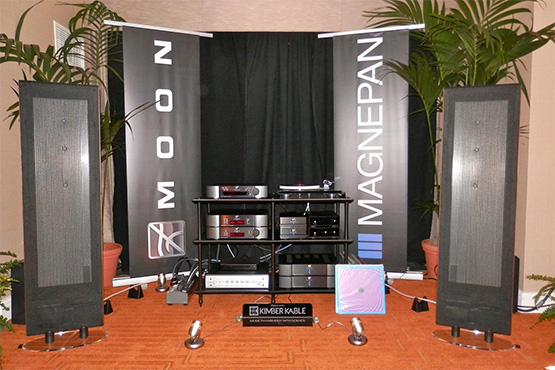 This Shelley's Stereo 2-channel system was also based on Magnepan .7 loudspeakers supplemented by JL Audio subwoofers.
Of the two systems, I personally preferred Magnepan's own system, in part because I favoured the pure, full-range sound of the .7s to the sound of the dipole speakers supplemented by subwoofers (even under the very best of circumstances, I have found the Maggies to be notoriously difficult to match seamlessly with subwoofers).
Either way, though, Magnepan's .7 loudspeakers proved you don't have to spend an arm and a leg to achieve a big, expansive, refined, and room-filling sound.
Vejam o que falou da Magnepan Richard Beers, President of T.H.E. Show:
 
I'll make this short because mainly the vast majority of the products shown and demonstrated were overly-priced for the performance they delivered. This is an indication of the price-no-barrier-driven market, which a majority of "tweak" audio manufacturers seek to exploit. Nonetheless, the styling and build quality exhibited were impressive but generally expensive.
 
I visited just about every exhibit room and listened. There were mostly box loudspeakers, whose characteristic sound I immediately detected, even prior to entering the room. Then there was the Magnepan demonstration. Wendell Diller, the company's Marketing Director, put on an extremely impressive demonstration of three-channel stereo featuring Magnepan's new .7s. This perfectly proportioned Magneplanar monolith planar-magnetic floor standing loudspeaker represents, without doubt, the new performance value in high-end audiophile audio. There is simply no other loudspeaker that even comes close to the image and sense of boxless spatiality. The sound was perfectly natural and transparent with a warm, smooth richness that is complementary to other Magnepan models, from which to form an impressive home theater loudspeaker system or as a multi-loudspeaker .7 system with exceptional price/performance value. Bass extension was impressively deep and powerful and never bloated or unnatural sounding. Diller's setup had, in addition to the three .7s across the front sound stage, two DWM bass panels.
 
What surprised the audiences hearing the demonstration was at the conclusion Diller revealed that neither of the two DWMs were connected. "WOW! The bass response is remarkable" was the consistent response by the listeners. 
 
As to be expected, Magnepan once again delivers high-value performance, made in America, with virtually all-American parts.