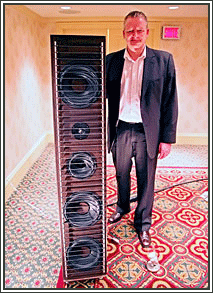 Is $140,000 the new price point for loudspeakers? No, that's not quite right—unlike the KEF Muon, the price of the GamuT S9 El Superiores is "only" $130,000/pair. Like the KEF model, this is intended to push the boundaries of what's possible in loudspeaker design, but the two speakers bear Absolutely no resemblance to each other. GamuT's speakers use the principle of distributed resonance in the design of their speaker cabinets, allowing the natural resonance of each part of the cabined to decay undamped, but distributing these resonances over such a wide are that the overall frequency response remains linear, but without what designer Lars Goller's feels is the "unmusical" sound of highly damped enclosures. Here's Lars with the S9. And, yes, the speakers did sound quite wonderful.

O Phil Gold da Enjoy the Music também visitou o F.S.I. em
Montreal e concluiu:

"as grandes caixas (S-9) mostram uma imagem em tamanho real e sem esforço "


100,000€ ($158,000 USD) will get you Gamut's new El Superioris, seen here with creator and GamuT President Lars Goller making its very first appearance. The speaker sits on stainless steel stands and features unusual fan shaped internal bracing to reduce standing waves. Lars used to work for renowned driver manufacturer ScanSpeak, and is a big fan of their drivers, which he uses exclusively. However, he has now developed some custom modifications that take these drivers to new levels of performance. The speaker features a protective frame of horizontal bungee cords (my description -- not GamuT's) that protect the drivers from damage while being acoustically transparent. You can remove the entire frame if you are so inclined. This big speaker throws a very large and effortless image. It represents quite a step upmarket for this company known in the past mainly for its power amplifiers.