National Audio Show 2016


A GamuT Audio e a Roksan Audio tiveram relevante participação no National Audio Show Inglês realizado em Setembro/2016 vejam abaixo:
GamuT Audio: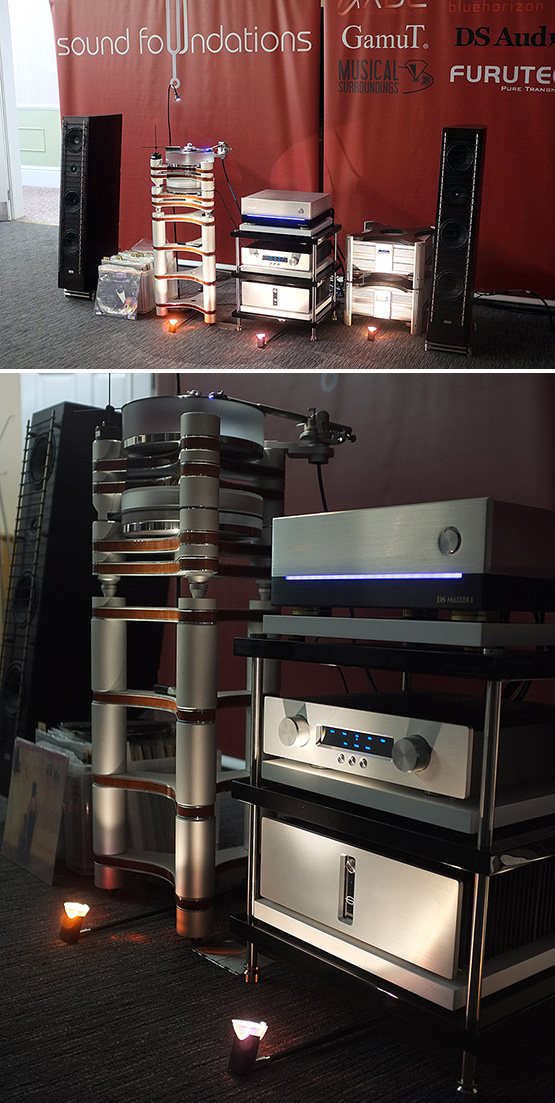 GamuT Audio / Isotek Systems / Sound Foundations
This was an exceptionally good sounding room that just oozed high-end quality from every pore, as well as being visually stunning. The centrepiece to the whole caboodle was the stunning vinyl replay system composed of the Clearaudio Master Innovation with a DS Audio Master 1 optical cartridge with its dedicated phonostage. This thing tracks brilliantly and with the Furutech SK Filter in place there wasn't a hint of static. Pre amp was in the form of the Gamu T D3i feeding the Danish company's D200i stereo power amplifier, which in turn powered a pair of their RS7i loudspeakers. Isotek Super Titans dealt with any nasties in the power supply, bringing the whole lot together and offering up a really, really lovely sounding system.
Roksan Audio:
Roksan put on a great room at this year's National Audio Show and I still love the Darius S1 loudspeakers with their exceptional ribbon tweeter. As I said in the room, these would be on my shortlist for reference loudspeakers if I didn't have the much more pricey Avantgarde Duo XDs. Today the speakers were being driven by the company's new BLAK range of electronics and there was a special edition Radius turntable in pink. I'd have liked to say this was a nod to Hifi Pig and our penchant for pink, but, as Simon Pope who deals with this British company's PR explained it was pink for a much more important reason – a percentage of all sales will go to breast cancer charities. What a great idea and what a great cause – well done Roksan. Highlight of the show for me was whilst about to end the day with a well earned pint in the bar, Tufan, the owner of Roksan, ran over to us and embraced us. Needless to say we enjoyed a bit of a natter and a couple of ales. The visual impact in the Roksan room was brilliant and the branding is just so strong it's hard not to sit up and take notice.